SXKH Mold Inspection Machine won bronze medal in the 24th NATIONAL EXHIBITION OF INVENTIONS
Release Date: 01/19/2021
Clicks: 699
The 24TH NATIONAL EXHIBITION OF INVENTIONS was hold in Foshan City, China from 19th November 2020 to 21st November 2020. The National Invention Exhibition is committed to fully displaying high-level invention-creation achievements in various fields, promoting invention and innovation, and industrial capital connection. This exhibition also helps to promote the transformation and application of invention and innovation achievements.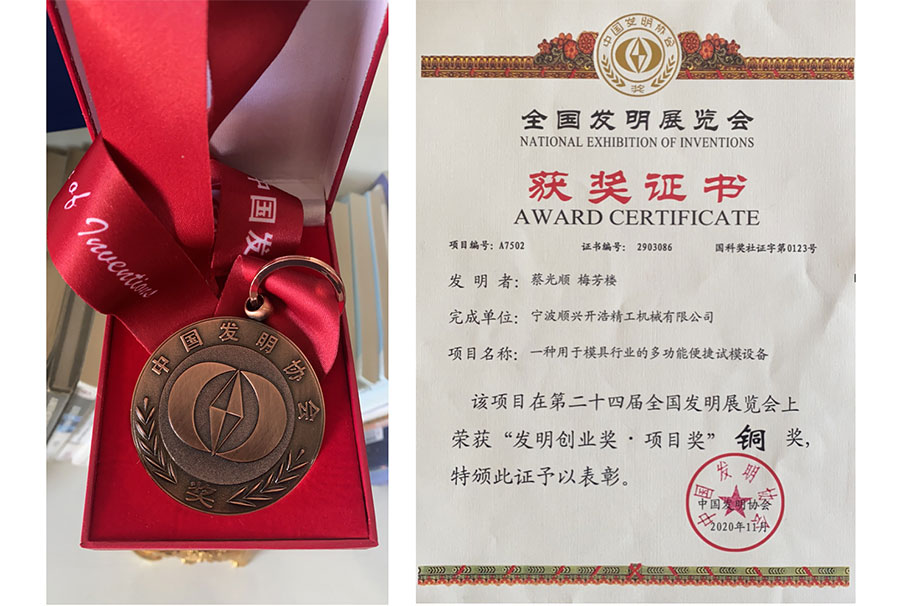 There is over 2050 Invention & Creation projects attending this exhibition this year. SXKH Industry manufactured mold inspection machine for mold testing and tryout won bronze medal in this fierce competition. This award is not the recognition of advancement, practicality and originality for SXKH brand's machine, but also it greatly encourages our R&D group to provide better product and service to our global customers.
Mold inspection Machine is a multifunctional Mold Tryout and Maintenance equipment. A mold testing machine is one of the essential facilities in mold & tool makers' factories, which can help mold makers to save mold tryout time & labor cost, promote production efficiency, improve mold quality.

With Mold inspection machine, Mold can be tilted by 90 degrees and do mold maintenance on the machine. SXKH Mold Inspection Machine can do Mold hydraulic system testing, mold ejector testing, mold water cooling system testing and hydraulic slides testing at the same time via this machine. SXKH Inspection machine can be equipped with a quick die change system on both platens, In order to improve the efficiency of mold loading and unloading. Besides, SXKH manufactured Mold & Die Inspection Machine applied Siemens PLC touch screen Control system, all parameters are free to settle and save.
SXKH is world leading machine manufacturer in Mold & Die industry, main products include Die spotting press, Mold turnover machine, Mold inspection machine, Hydraulic Die clamps, and electro permanent magnetic chuck, etc. In the industry at the best price, high quality, reliable performance, superior service, service in the field of mold & die. Nowadays, SXKH has established a good reputation in global market, winning the majority of customer recognition and trust. Its customer has covered over 30 countries including USA, Canada, Mexico, Peru, Spain, Turkey, Italy, Germany, New Zealand, Czech, Saudi Arabia, India, Thailand, Vietnam,etc, and are attracting increasing attention from more and more customers.