SXKH DIE SPOTTING PRESS acquired Zhe Jiang Made Certification
Release Date: 01/25/2021
Clicks: 819
SXKH Industry has been in designing and producing Die spotting press over 18 years. Nowadays, SXKH is one of the most professional die spotting press manufacturers. It has two big facility in Ningbo, china. SXKH India, Shanghai SXKH, SXKH Hongkong are separately set in 2018, 2019 and 2020. In order to provide fast and timely service and technical support to global customers, SXKH also established cooperative relationship with local representative in USA, Mexico, Canada, Italy, Portugal, Turkey, Spain, Poland, Germany, etc.
Except that, SXKH also values the quality and advancement of its products. SXKH believes in "Honesty Centered, Quality First, Independent Innovation and Scientific Development as company's management principle. The whole process is strictly supervised by ISO9001 QMC. SXKH obtains many Patents right and CE certification for all the products.
Zhe Jiang Made is the first Chinese regional publics standard certificate,but it far more than a industry standard, but also symbol of high quality and high-end of Zhejiang Province manufacturing industry. The goal of implementing Zhe Jiang Made brand building is to adhere to the combination of market-oriented operation and government guidance and promotion, use high standards to lead the high-quality development of Zhe Jiang Made by means of standards and certification, and carry out Zhe Jiang Made certification for Zhejiang products that meet the requirements of high standards and high quality.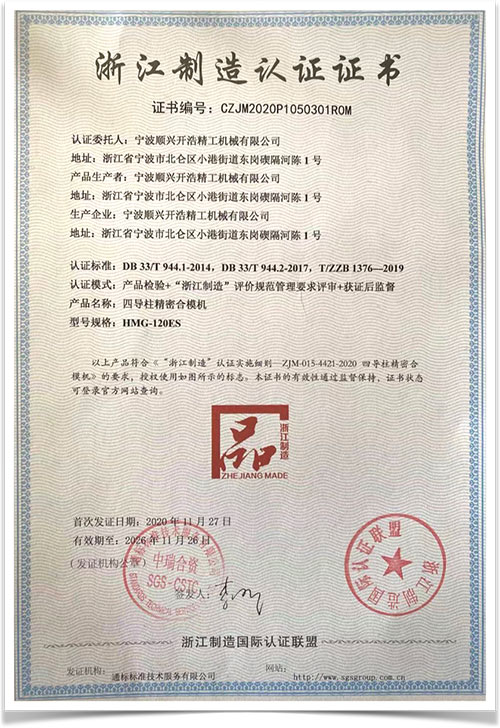 The Zhe Jiang Made standard of SXKH Four Pillar Precision Die Spotting Press issued in Nov. 2019, After one year's certification process and evaluation, SXKK die spotting press officially acquired Zhe Jiang Made Certification in Nov. 2020. This certificate is another proof of advancement and reliability of SXKH Brand products, and it is also a significant step for SXKH brand become world's leading machine manufacturer.