An Optimal Tool for Mold Tilting
Release Date: 03/03/2021
Clicks: 696
Since the high efficiency, cost-saving demands has exploded with the high-speed development of mold manufacturing technology, the application of various auxiliary equipment is more and more extensive. Tool Mover has become a necessary auxiliary equipment for medium and large mold tilting work and vertical die spotting press, it is also the ideal equipment for large mold repairing. It makes mold tilting process safer and quicker.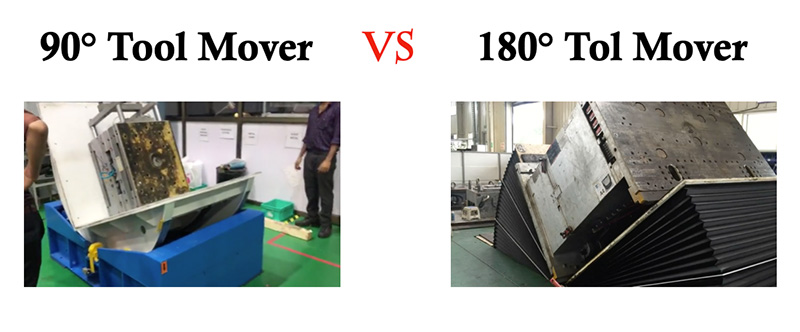 Why tool mover is favored by more and more people ?
1. Except the safe and reliable feature, tool mover also overcomes the shortcoming that turning over manually is not safe and easy to damage the lifting device.
2. Compact structure, small occupation,low energy, small consumption and high efficiency.
3. Self-locking function when power is off, power failure encountered during turning over, the machine will automatically lock, there will be no reverse phenomenon.
4. It reduces the labor intensity of the operator and improves the production efficiency.
5. Simple operation and convenient maintenance.
SXKH, as a professional mold auxiliary equipment manufacturer, has more than 10 years' experience in the research and development of tool mover. SXKH tool mover has 90 degree and 180 degree two types of tool mover, and both two type machines are used for tilting mold by 90 degree.
What's the difference of two type tool mover?
* 90 degree tool mover
1)Electrical driven
2) More Economical compared with 180 degree tool mover
3) The tables only can rest at 90 degree position
*180 degree tool mover
1) Hydraulic driven
2) The tables can rest at 180 degree position
3)Do not require delicate place to keep installation because Whole hydraulic system can be accommodated in pit
Below is the workflow of two type tool mover, which gives a comprehensive picture of their working procedure.
*90 degree tool mover

*180 degree tool mover