The introduction of quick mold change system has become the development trend of mold manufacturing enterprises
Release Date: 03/12/2021
Clicks: 716
As is known to all, the traditional mold change method has many disadvantages, however, quick mold change system brings a lot of convenience to the mold industry. Compared with the traditional mold change system, quick mold change system can save more than 90% time of clamping and unclamping mold. What's more, quick mold change system is simple and safe to operate, either little requirements for operators. To some extent, quick mold change system not only greatly reduces the labor cost and intensity, but also improve production efficiency.
Furthermore, in order to meet market's diverse demand and enhance the competitive advantages in the industry, from large group companies such as Midea and Gree to small workshop enterprises, have introduced quick mold change system to their production plants. Quick mold change system has become the development trend of die and mould industry.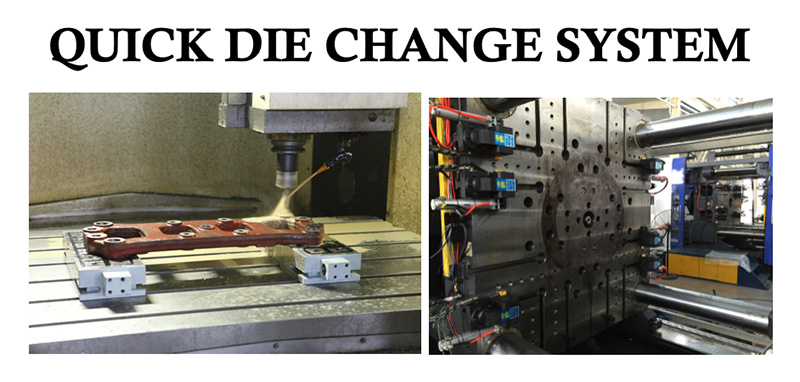 Quick mold change system is favored and recognized by growing number of mold manufacturing enterprises. Its success can be attributed to its safe and efficient characteristic. it is suitable for these facilities whose mold changing frequency is very high especially. Quick mold change system significantly shortens mold change time, reduces labor costs.
Located in the gathering place of mold enterprises, SXKH is a professional mold auxiliary equipment manufacturer with nearly 20 years of production experience, whose key products includes die spotting machine, mold flipper, mold inspection machine, quick die change system, etc. SXKH complies with the mould market development trend and customers' demand, developed and introduced SXKH Brand quick mold change system, which includes electro-permanent magnetic chuck, mold change cart and hydraulic clamps. They are widely utilized in injection molding machine, CNC machine, stamping machine, casting machine, as well die spotting press and mold tryout machine produced by themselves.