The characteristics of tool mover
Release Date: 05/24/2021
Clicks: 672
As a professional manufacturer of tool mover, die spotting press machines and other auxiliary mold equipment, today we will talk about the characteristics of tool movers.
As is well known, tool movers are widely used in mold manufacturing industry, injection molding and die-casting industries. They are indispensable auxiliary equipment for large-scale mold maintenance and vertical die spotting press machines, so what are the characteristics of the tool mover?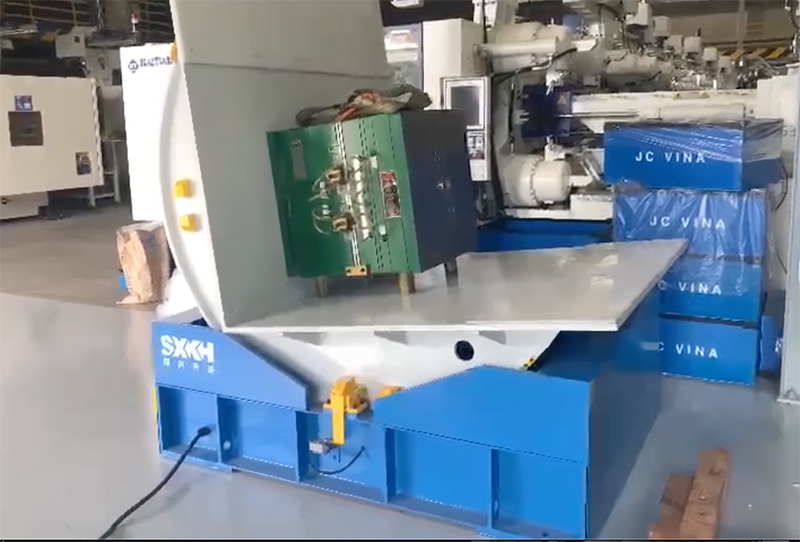 1.Tool mover has many safety functions, including smooth and safe turning.
2.Tool mover can move and turn large molds safely and reliably, which effectively improves the safety of operators and reduces the cost of mold damage.
3.The safety design of the tool mover is very perfect, it is with power-off self-locking function, when the power is turned off, the machine will automatically lock, and there will be no reverse phenomenon.
4.Tool mover can help reduce the labor intensity of the operator.
5.Tool mover has a compact structure and occupies a small space, low energy consumption and high work efficiency.
6.Tool mover is easy to operate and simple to maintain.
7.The turning angle is adjustable, and there are 90-degree and 180-degree turning types so as to meet different turning needs.
8. The drive mode is optional, it has motor drive and hydraulic drive, customers can choose according to their needs.
As the saying goes, "A worker must first sharpen his tools if he wants to do his job well." Good tools are very important for the efficiency of making molds. Tool mover is just one of them.
Due to the increasing demand of tool mover, the number of tool mover manufacturers is also increasing. Therefore, faced with the uneven quality of the tool mover market, it is very important to choose a manufacturer with reliable quality, professionalism and high reputation. SXKH has specialized in researching and developing tool movers for nearly 20 years. Its tool mover can be customized according to customer requirements to meet different customer needs. SXKH's machine has acquired the recognition over 30 countries with high quality and superior performance and professional and prompt service. It is an ideal choice for you to purchase tool movers.