The classification and disadvantages of injection molding machine
Release Date: 03/08/2021
Clicks: 882
The injection molding machine can be divided into mechanical type, hydraulic type and hydraulic mechanical type according to the different clamping mechanism.
1. Mechanical clamping mechanism and its disadvantages
The mechanical action and clamping force generated and kept are completed by mechanical transmission for mechanical clamping mechanism. Because it is difficult to manufacture, adjust and maintain, and the platen stroke is short, the starting load is large, and the frequency is subjected to shock vibration, at present, there are few manufacturers to produce such kind of machine.
2. Hydraulic clamping mechanism and its disadvantages
The mechanical action and clamping force generated and kept are completed by hydraulic transmission for hydraulic clamping mechanism. It can easily realize the movement and adjustment of clamping force. This type clamping mechanism has the advantage of large moving stroke of platen,wide height range of plastic parts, convenient adjustment of mold clamping force, easy adjustment of platen stroke. However, the stability of hydraulic clamping mechanism is not good, which leads to the mold flashes.
3. Hydro-mechanical clamping mechanism and its disadvantages Hydro-mechanical clamping mechanism combines the advantages and disadvantages of mechanical clamping mechanism and hydraulic clamping mechanism mold injection machine.
The shortcomings of clamping mechanism for injection mold machine finally reflects in the quality of injection products. They will cause insufficient injection force and flash. Besides, products are easy to have warpage and shrinkage problem, which will lead dents and bubbles etc.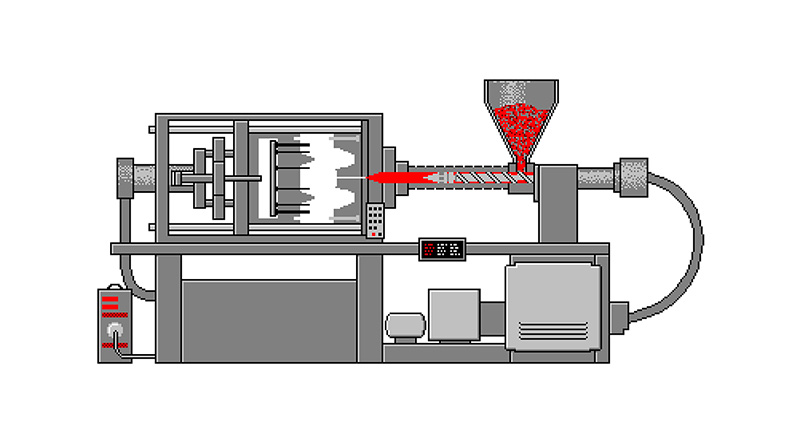 A proper way to fill the gap, a professional clamping equipment, die spotting press is proposed. Die spotting press is a kind of professional mold tryout and maintenance device, which is mainly used in the later stage of mold production to match bolster and sliders. It adopts a variety of reliable devices, such as positioning device for movable base, turnover locking device for sliders, mechanical turnover device, hydraulic rod ejector, die slider control and safety anti-fall device. This effectively solves the insufficiency and problem in the process of clamping for injection mold machine.
SXKH brand die spotting press is four pillar type design, and it uses four clamping cylinders and has the advantages of high precision, energy saving and environmental protection. With more than 10 years of professional experience in die spotting press manufacturing, it has obtained several patents. SXKH is well known at home and abroad for the high quality, competitive price and perfect after-sales service of its products.