Function and working principle of the tool mover
Release Date: 05/18/2021
Clicks: 584
Mold turning machine is an indispensable auxiliary equipment for large mold maintenance and vertical die spotting press machine. It is widely used in mold manufacturing industry and injection molding and die casting industries.
If the mold used in the horizontal injection molding machine or die-casting machine needs to be opened and repaired, it needs to be rotated 90 degrees first. Probably small molds are easy to rotate 90 degrees, but when turning large and heavy molds, it becomes a very dangerous and time-consuming work. Therefore, tool movers are designed to safely turn molds for maintenance purposes. And they make turning the large dies/molds safer and quicker. Tool movers are used for processing, assembling, repositioning and turning molds, you can perform turning operations more easily and safely.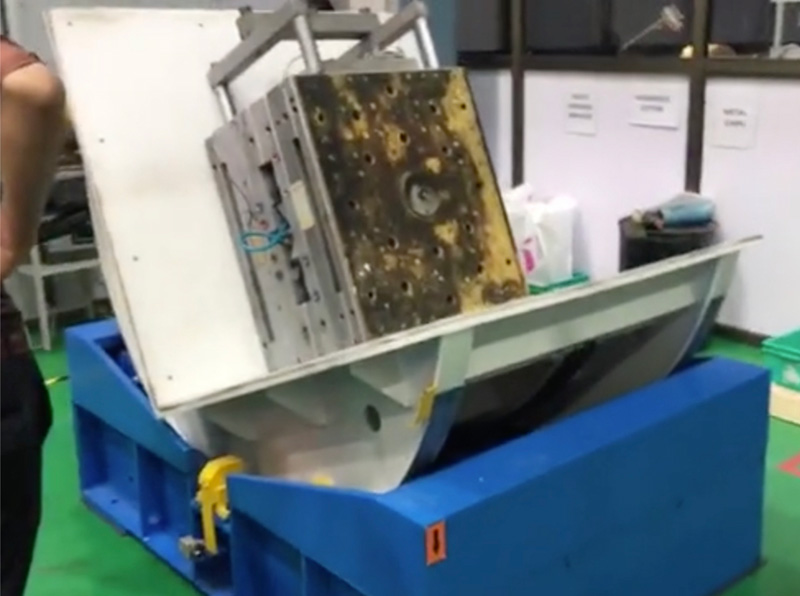 The working principle of the tool mover: tool mover adopts an electromagnetic brake type motor with a chain to realize the turnover of the worktable, so as to achieve the purpose of turning the mold on the worktable. The worktable of tool mover is made of 25mm thick steel plate to ensure the ability of the table to bear the mold. The surface is equipped with a wear-resistant PP plate to protect the mold surface, reducing the damage of the mold to the working table, and prolonging the life of the tool mover. The tool mover does not need a foundation, it has a compact structure and a small footprint. Tool mover has safe and reliable advantage thanks to its automatic locking function when the power is cut off.
SXKH has 90 degrees and 180 degrees two type of tool mover for choosing, providing motor drive and hydraulic drive two machine drive type. As a professional supplier of mold manufacturing auxiliary equipment, SXKH has more than ten years of experience in research and development of tool movers. Nowadays SXKH brand tool movers have been laid a solid foundation and operated steadily ,selling well at home and abroad.