Innovative Technology Selection Event
Release Date: 03/22/2022
Clicks: 387
Innovative Technology Selection Event
After more than 20 years of rapid development, China's die casting industry has now entered a critical period of transformation and upgrading, collaborative innovation and high-quality development have gradually become the consensus of the industry.
In order to encourage the continuous emergence of innovative technologies and achievements in the industry, and drive the technological and product innovation of related enterprises, form an innovative trend in the whole industry, and enhance the competitiveness of enterprises, since 2017, Shanghai Die Casting and Nonferrous Exhibition has organized the "National Die Casting Industry Annual Innovative Technology and Product Selection" activity in the whole industry, aiming to discover, identify and promote excellent innovative technologies and products in the field of die casting at home and abroad, and then promote the development and technological progress of China's die casting industry.
Announcement of preliminary examination
Ningbo Shunxingkaihao Machinery Co., Ltd.'s innovation award application for super-large distribution testing machine (die spotting press) has passed the preliminary examination of the event organizing committee,and in order to ensure credibility and accept the supervision of the whole industry, it has now entered the publicity stage. Each innovative technology that has passed the preliminary examination will be announced simultaneously on the "Die Casting Weekly", "Zonzu Technology" and "Die Casting News" public accounts, and the publicity period will be 10 working days (that is, from March 7 to March 18, 2022), during which if no one raises objections, it will enter the final review stage, and the selection activity is planned to be finally evaluated and announced by the special expert group of the die casting industry in June 2022.
Innovative technology: super-large mould matching testing machine (die spotting press)
Declaration enterprise:Ningbo Shunxingkaihao Machinery Co., Ltd.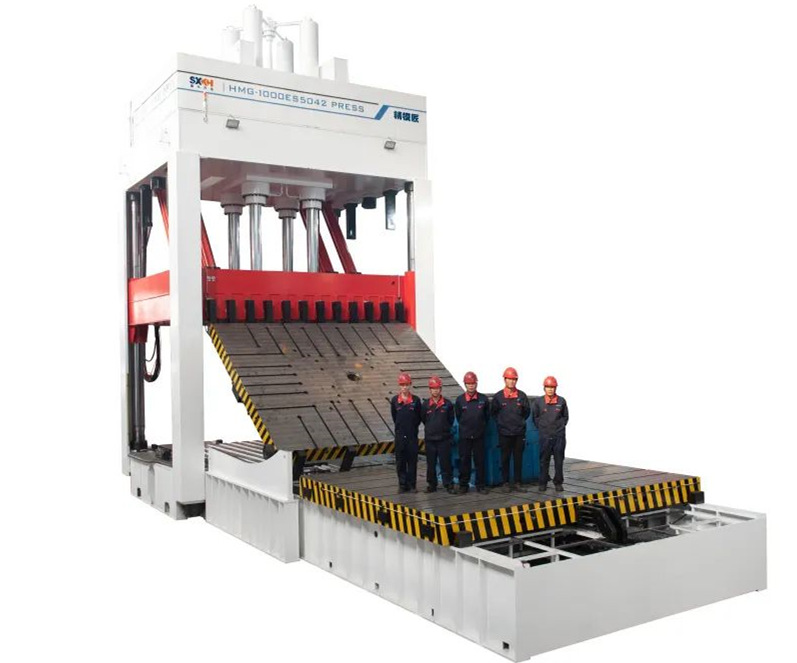 Innovation background
At present, more and more car companies are developing and investing in integrated die-casting molding technology, and the tonnage of die-casting molds is also getting larger and larger, and some molds weight close to 200 tons. Before the 6000T die casting machine was introduced, the maximum tonnage of the die spotting press was 600T (clamping force), and the working table size was less than 4200mm×3500mm, which was suitable for die casting below 5000T. In this context, the traditional mold distribution testing machine has been unable to meet the mold matching conditions of the integrated die-casting mold, so Shunxingkaihao Company began to develop super-large mold distribution equipment in 2020, and has developed a clamping force of 800T and 1000T super large die spotting press.
Characteristics of technological innovation
For the current integrated molding mold, Shunxingkaihao Company has developed a super-large four column precision die spotting press with a maximum clamping force of 1000T and a working table of 5000mm×4200mm. For this super-large mold distribution testing machine, the lower mold can carry 260 tons of overall mold weight, the upper plate can carry 110 tons of mold, and achieve 180 degrees flip function. The dynamic mold base is equipped with a jog function with an accuracy of 0.02mm. Molds for die-casting islands from 9000T to 12000T.
Innovative content and results
Allow large tonnage mold fitting testing. The hydraulic system adopts servo proportional control, the jog accuracy is accurate, and the lower mold is moved out by the reduced motor mode, which is more accurate and stable than the traditional oil motor. The upper template flips with 4 flip cylinders to reduce the risk of huge shear forces due to flips.
Customer stories
North American well-known new energy vehicle brand (using Shunxingkaihao 800T die spotting press)
Guangzhou Die and Mould Manufacturing Co., Ltd.(1000T die spotting press)
KYORITSU SEIKI(DALIAN) CO.,LTD. (800T die spotting press)
Zhejiang HuiWang Machinery Co., Ltd. ( 1000T die spotting press)
SORL (Ruili group) ( 1000T die spotting press)
Economic benefits
If there is no super-large mold matching testing machine, then the super-large die-casting mold matching can only be on the die-casting machine, and generally a set of molds may require 5 to 10 days of mold-fitting. If the mold fitting is on die spotting press in advance, then after the mold fitting is completed, it only takes 1-3 days on the die casting machine, which greatly saves the mold matching time and economic cost.
Trends
With the increasing popularity of integrated molding molds, super-large matching testing machines are also indispensable equipment.
The situation in the industry sector in which the innovative technology is located
Shunxingkaihao Company is the drafting unit of Zhejiang manufacturing standard of "Four Column Precision Die Spotting Press".